Resilient Living and Permaculture
Another World is Possible
See further down this page to find out how we use permaculture in our social enterprise and how our society is reaching a tipping point. We will also touch on the emergency we face in the UK (and indeed the world) and the part that 'permaculture', and the Association of Resilient Living is playing in designing a 'Social Change Ecosystem'. We will also explore how to use 'Permaculture to design a roadmap for the kind of future we want'.
So what is permaculture?
Permaculture is a creative design process that leads to action, based on whole-systems thinking, and informed by ethics and design principles. It helps design intelligent systems which meet human needs whilst enhancing biodiversity, reducing our impact on the planet, and creating a fairer world for us all.
Many people have been drawn to permaculture because of a passion for our environment and want to learn to work with nature to create productive and biodiverse gardens. Now permaculture has a culture, a network and has spread beyond gardening and to communities around the world. People are 'permaculture' to design their lives and communities using scientific methods and emergent processes. Permaculture 'activists' and designers are observing and learning from the patterns in nature, our human health, and wellbeing, and the way we produce, use and distribute power and resources.
Imagine a world in which we listened to each other to meet our desires for a more resilient lifestyle. A world that meets the needs and desires of ourselves and our communities. A world where we have healthy relationships with each other and our environment (our ecological life source). A society which considers the long and short-term outcomes of our actions and the impact they have on people and planet. Rather than many of the unsustainable 'reactionary' systems that can have catastrophic effects popularised by the majority of UK media and the narrative this creates. Imagine a UK where our stories about the kind of towns, cities, and communities we want, are heard. One that is more imaginative and abundant in all things useful and creative!

That world would be home to healthier people who would become more mentally and physically resilient. We would be surrounded by diverse wildlife, healthy soil and abundant natural and agricultural ecosystems. Sounds pretty good right? Well, permaculture is all about designing, implementing and maintaining systems that lead us towards a world like that, a world that we would like to live in~ Roxy, Off Grid Festival Coordinator and co-founding director of The Association of Resilient Living
Permaculture in our social enterprise
As you can see permaculture fits right in with what we are doing at 'Off Grid Festival' and the 'Association of Resilient Living' which sprang out of that. 
Permaculture played a role in Off Grid Festival in its original inception in 2009 and has played a part in our educational content throughout its evolution. Now in our third year of the revival of Off Grid Festival and our first year as a new social enterprise we want to be clearer about how permaculture plays a role in our organisation and our work and the activities and culture of our membership.
The key permaculture ethics are simply:
– Care of the earth: other animals, soil, forest and water
– Care of people: care of self, kin, and community
– Fair Share: Act local, think global. Set limits to consumption and production and redistribute surplus.

The 12 permaculture principles:
These are thinking tools, that when used together allow us to creatively re-design our environment and behavior. Each principle can be thought of as a door that opens into whole systems thinking, providing a different perspective that can be understood at varying levels of depth and application.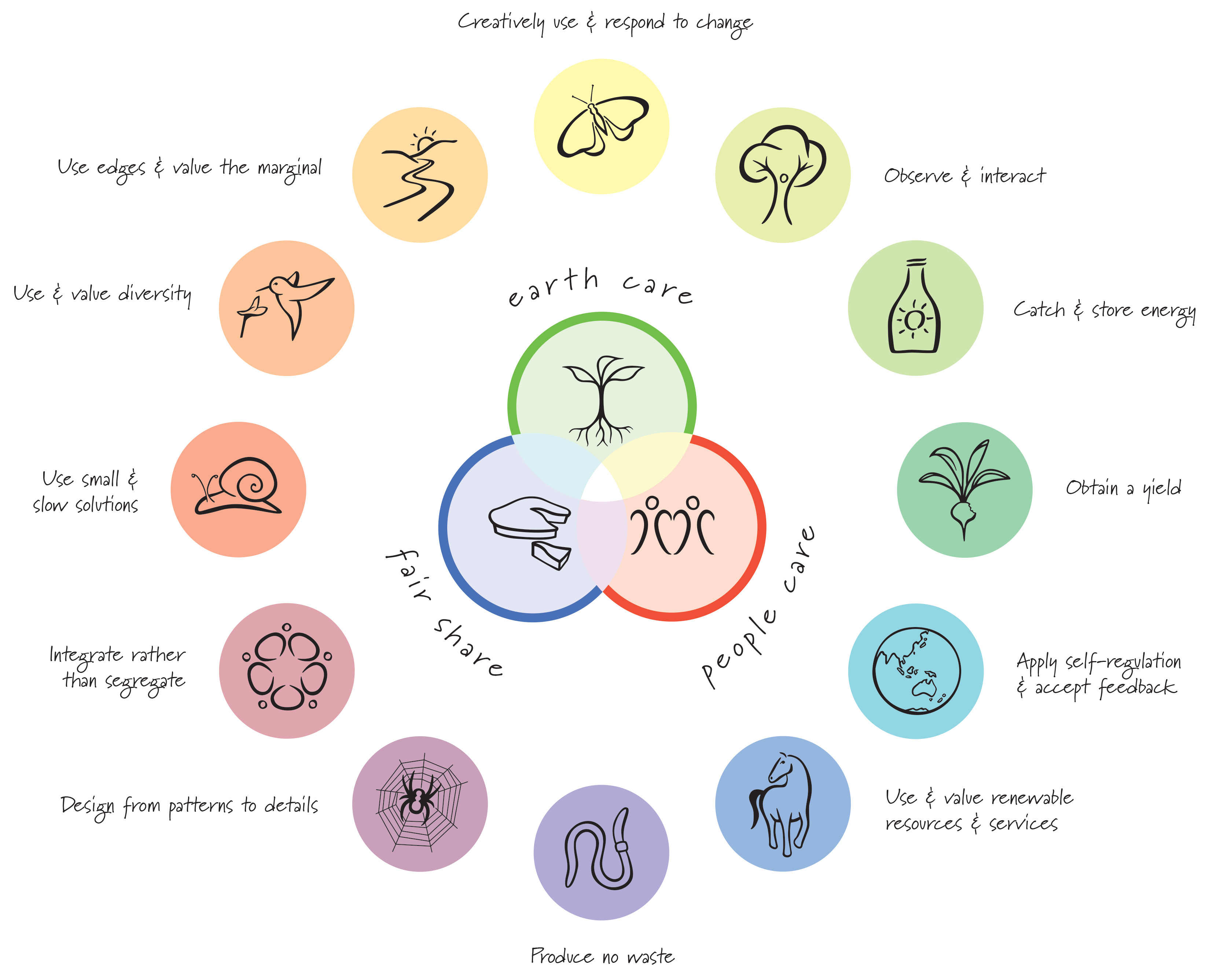 We are reaching a tipping point
It feels like understanding of the consequences of our the growth focused and ecologically disastrous culture, and economic model; and understanding the benefits of designing using permaculture ethics and principles, are simultaneously reaching some kind of tipping point.
There are thousands of people that use permaculture across the UK and thousands of permaculture projects and businesses worldwide. They are using the design process and ethics to transform their lives and communities, from designing their gardens, homes, community projects and businesses to designing healthy, sustainable and resilient communities and lifestyles.
In the last 30 years 'permaculture' has been popularised by the work of the Permaculture Association, its network of members, educators and learners, and its worldwide partners and allies, as well as by the transition town movement, the permaculture magasine and the numerous books, studies, and blogs published on the subject.
Permaculture as a practice and a set of principles has formed a 'movement' or cultural shift of like-minded people around 'permaculture' as a way to design ecological and social change in communities across the UK (and indeed the world).
A Social Change Ecosystem
In March 2018 some of the members and directors of the Association of Resilient Living attended 'CTRL Shift: An Emergency Summit for Change' in Wigan. This was an eye-opening experience; it was unlike any other conference type event we have attended.
The Permaculture Association teamed up with like-minded organisations to create CTRL Shift as an event designed to be a catalyst for social change in the UK and build bridges across current ecological, economic, political and social issues and sectors. The Permaculture Association was instrumental in organising the event along with a number of partners organisations.
Out of 'CTRL Shift: An Emergency Summit for Change' sprung a number of projects that the Permaculture Association and its members are taking part in. Not only was the summit an opportunity to learn new skills and make new connections it was an opportunity to have real human experience about the emergency we face. We shared stories, knowledge, insights as well as our intentions and passion to create change in the UK. There were many friendships made and working groups for projects were created.
The Association for Resilient Living looks forward to being a part in what is to come for these projects, and for the group of like-minded participants in CTRL Shift and their associated members, networks, and communities that will benefit from them.
Read Rob Hopkins blog post 'report from CTRL Shift here. Rob Hopkins is an author and co-founder of both Transition Town Totnes and Transition Network.
#CTRLshift2018
What draws people to permaculture?
Some people are also drawn to permaculture because they understand that many of the ways our species operates are extremely unproductive, destructive and to some extent has irreversible on our finite planet. They understand that we can learn a lot by observing what is going on around us and how that impacts our lives and our environment. People understand that by experimenting to create fair and resilient communities and lifestyles we can create a world that we want to live in, that not only sustains us but means we can thrive. And that we can only do that if we learn to work with our nature not against it. And with each other not against each other.
Many of people would agree that it seems logical, particularly as we live on a finite planet, that we would like to see less unhealthy biological ecosystems. Along with a less destructive societal culture. This is why many people would like to intentionally create well-designed systems and communities. Permaculture is one method of achieving this.
Designing a roadmap to the kind of future we want to create
There are hundreds of thousands (and probably many more) studies to suggest that we need to retrofit our planet to become sustainable and socially and ecologically resilient. There are billions of ways to develop resilience and an abundance of replicable models that work. Probably the majority of people would like to figure out a roadmap for how to make that world possible. We are excited to experiment with you to explore the possibilities of our human potential and truly believe 'another world is possible'!